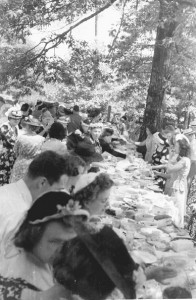 For by grace you have been saved through faith. And this is not your own doing; it is the gift of God, not a result of works, so that no one may boast. For we are his workmanship, created in Christ Jesus for good works, which God prepared beforehand, that we should walk in them.
Ephesians 2:8-10
Homecoming Is Here!
Homecoming is defined as the act of returning home for an annual celebration for people or returning home after a long time a way. This fourth Sunday in May we will once again gather at Jennings Chapel to celebrate our Homecoming. This is a time that we use to reconnect with family and friends and reminisce about our ancestors. The people who came before left a legacy of brotherhood and commitment to our faith and church. Our cemetery is a physical representation of that love. It is the final resting place for the individuals that our church built its foundation on. From the Hamners, Harpers, Suttons, Jones and Williams to the Pruetts, Camps, Carters, Feigles and Christians the church remains the embodiment of its members, its personality changing has the members add their own gifts to the congregation.
The stories that circulate during meal and afterwards, when small family groups gather in the parking lot, cement the relationships. The remembrances of how the matriarch of the family could control the family all the way down to the grandchildren along with the nieces and the nephews. The expectation was that the family would be represented in church, that the number of people and distance in which they traveled demonstrated the love and respect we had for our ancestors. Some of the food that is brought comes from old recipes, vegetables picked from gardens and always enough food to feed all with leftovers for an evening meal. This traditional coming together allows us to connect with our elders and demonstrate the necessity for cultivating family relationships through both blood and the church congregation.
I will finish with a small story.
While visiting his grandparents, a small boy opened the big family Bible. He was fascinated as he fingered through the old pages. Suddenly, something fell out. He picked it up and found that it was an old leaf that had been pressed flat between the pages. "Mama, look what I found," he called out.
"What have you got there, dear?" his mother asked."
With astonishment in his voice, the boy answered, "I think it's Adam's underwear!"
Have a wonderful time at Homecoming!
http://www.jenningschapelunitedmethodistchurch.com/wp-content/uploads/2016/04/JCUMCC-logo.png
0
0
Mary Brunette
http://www.jenningschapelunitedmethodistchurch.com/wp-content/uploads/2016/04/JCUMCC-logo.png
Mary Brunette
2016-05-03 17:20:12
2016-05-03 17:20:31
Homecoming 2016